It's finally December, and Christmas is inching closer! In a few weeks, we say goodbye to 2019 and hello to the start of another decade in 2020. Time flies! And just in time for the holiday season, conditions in the housing market are on the up. Now could be a great time to think about your property purchasing plans for a new home or investment property in the new year.
Interest rate news
This month, the Reserve Bank of Australia (RBA) decided to hold the official cash rate at 0.75%. The decision follows rate cuts in June, July and October this year to the current historic low. The board will next meet in February 2020, so the rates are set to remain low into the New Year.
Right now, we are seeing some very competitive loan options from lenders, as they compete to secure new business before the year ends. If you haven't reviewed your mortgage for a while, now is the time to talk to us.
Home value movements
Increasing buyer confidence, driven by the RBA's interest rate cuts earlier this year, has led to increased activity in the market. By the end of the year, analysts and economists alike expect house values to record significant growth. Property experts also predict that the increased activity will continue right up to Christmas.
Housing market conditions continue to gain momentum in Sydney and Melbourne. Housing prices in these cities continue to increase, along with high auction clearance rates. High clearance rates can also be seen across the other states and territories, with Tasmania and ACT following NSW and Victoria in the lead. In November, dwelling values in Sydney increased 2.71% over October, while Melbourne had an increase of 2.25% and Brisbane grew by 0.83%. Adelaide also increased by 0.54%, Hobart by 2.28%, Canberra by 1.60%, and Perth by 0.36%. On the other hand, only Darwin had a decrease this month, by 1.18%.
Property market activity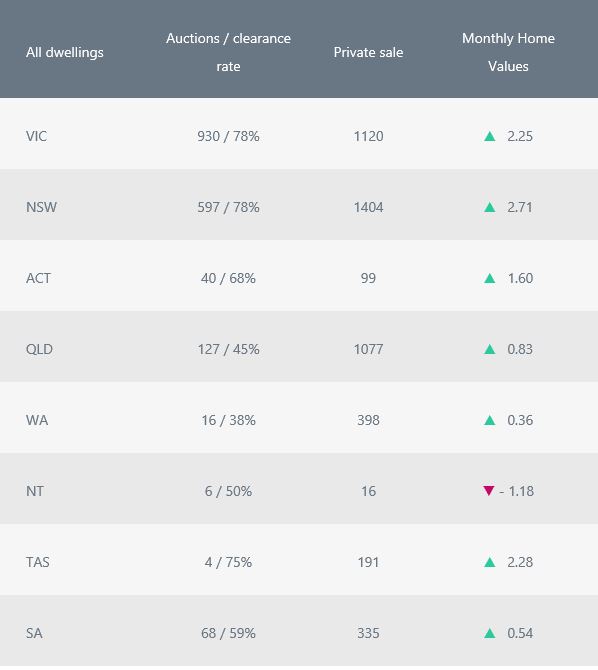 * Monthly Home Values figures as at November 30, 2019
* Australian auction results, clearance rates and recent sales for the week ending December 1, 2019. The clearance rate is preliminary and current as at 11:01am, December 2, 2019
Tell us about your experiences with taking out a loan through me, your mortgage broker
This year, the mortgage broking industry has seen a lot of change. An independent research firm, Momentum Intelligence, has put together a survey designed to explore consumers' experiences with taking out a mortgage through a mortgage broker. The results will be used to inform policymakers, regulators, and Australian consumers on the quality of service provided by mortgage brokers and lenders. The survey is completely anonymous, so if you would like to participate in this initiative, you can do so by following this link.
Buying a property this holiday season?
If you're planning on purchasing a property before the year ends, make sure you speak to us about your financing. We're here to help you find a home loan that supports your current financial position and future goals. Get in touch today. Finally, we would like to thank you for your support throughout 2019 and look forward to helping you achieve your property financial goals in 2020!